ACTIVITIES AT SIMUNYE CLUB
Simunye Country Club and Lodge provides a gateway to a variety of activities close by, in addition nto all the activities on the premises
RIVER TUBING, PICNICS AND FISHING
Want a really fun, exciting, yet safe adventure? Join us on a River Tubing and Rock Pool adventure. Simunye Club will organise a fun picnic day at the rock pools with tubing for big and small at Mbuluzi Game Reserve. Simunye also has access to dams on the Estate. The fishing is very good, with Bass and Bream aplenty! You don't only have the option to fish on land, but also fishing from either the houseboat or one of our two small fishing boats that we hire out to our guests
SUNDOWNER CRUISES
Simunye Club offers a choice of Houseboat Cruises, such as the Booze Cruise, on the Sand River Dam which is a fun and relaxing way to spend your day with friends and family, this cruise includes:
excellent fishing on the dam – with rods supplied (included in price)
Light snacks or full braai on board, according to your budget and what you request.
Beverages of choice
able to fit 15 adults on the houseboat
duration of the cruise is 4hr or 6hr, prices go from R880 per cruise, food and drinks are extra.
SNAKE HANDLING COURSES AND DEMONSTRATIONS
Thea runs snake handling and snake identification courses at Simunye Country Club. If you are interested in learning more about snakes, snake handling and snake identification please contact Thea to arrange group demonstrations and courses, which will teach you about basic snake education as well as safety tips. Due to lack of funding, life-saving anti-venom is not available in Swaziland, so people have no choice but to turn to more conventional cures.
Click here to read more about snake handling courses at Simunye Country Club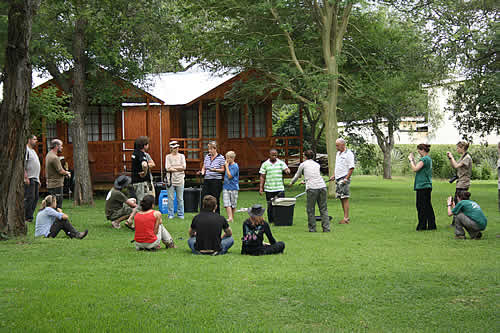 NEARBY GAME RESERVES
Simunye Club organises wonderful group trips, picnics and game walks/trails at the various Game reserves in the area that are near by.
Hlane Game Reserve
Game includes the BIG 4 : Lion, Elephant, Rhino and Leopard, as well as plains antelope.
Mbuluzi Game Reserve
Plains animals and excellent birding. Here we can expect organised group trips and picnics in the game reserve, on request. Here there are rock pools, with fun tubing.
Mlawula Game Reserve
Grasslands, wonderful game and excellent bird viewing. A good place for walking trails.

TOUR OF THE SUGAR MILL
Come and join us on an interesting and in-depth tour of the sugar mill. You will learn some interesting facts about the sugar mill on this tour, you will learn much about the history of the mill as well.

ANNUAL FAIR
Our annual fair
at Simunye Country Club is an event not to be missed! Fun-filled for the whole family, there is something for everyone. Bring the kids and enjoy every moment!