ACTIVITIES AT SIMUNYE CLUB
Simunye Country Club and Lodge provides a gateway to a variety of activities close by, in addition to all the activities on the premises
SNAKE HANDLING COURSES AND DEMONSTRATIONS
Thea runs snake handling and snake identification courses at Simunye Country Club. If you are interested in learning more about snakes, snake handling and snake identification please contact Thea to arrange group demonstrations and courses, which will teach you about basic snake education as well as safety tips.
Due to lack of funding, life-saving anti-venom is not available in Swaziland, so people have no choice but to turn to more conventional cures.
Click here to read more about snake handling courses at Simunye Country Club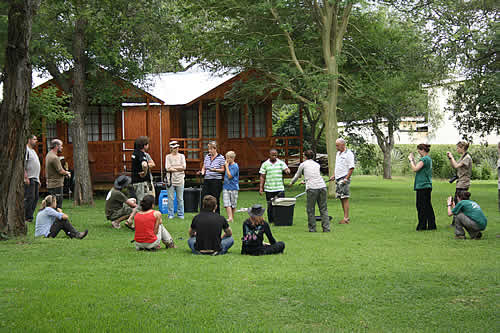 NEARBY GAME RESERVES
Simunye Club organises wonderful group trips, picnics and game walks/trails at the various Game reserves in the area that are near by.
Hlane Game Reserve
Game includes the BIG 4 : Lion, Elephant, Rhino and Leopard, as well as plains antelope.
Mbuluzi Game Reserve
Plains animals and excellent birding. Here we can expect organised group trips and picnics in the game reserve, on request. Here there are rock pools, with fun tubing.
Mlawula Game Reserve
Grasslands, wonderful game and excellent bird viewing. A good place for walking trails.